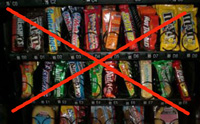 Rather than the standard fare we've known for years, the choices now include a wide variety of healthful items, such as a Garden Salad, Chef Salad, Caesar Salad, Shrimp Louie Salad and many others. You might be surprised to find an assortment of fresh fruit!
In addition, a variety of fresh sandwiches is available. Tuna on Wheat, Club on Wheat, Roasted Chicken on Wheat, just to name a few, all Fresh & Ready.
However, not to worry, if your desire is for some candy, or cookies, these are available. Maybe you'd like some chips or nuts, we've got 'em. And to tempt you further, we feature the Hostess line of snack products.
Last but not least, a full complement of cold drinks, including soda, water, milk, and energy products.